Gold coin of Australia "Lunar II": "Year of the Snake," 2013 pure gold 31.1 g. (sample 0.9999)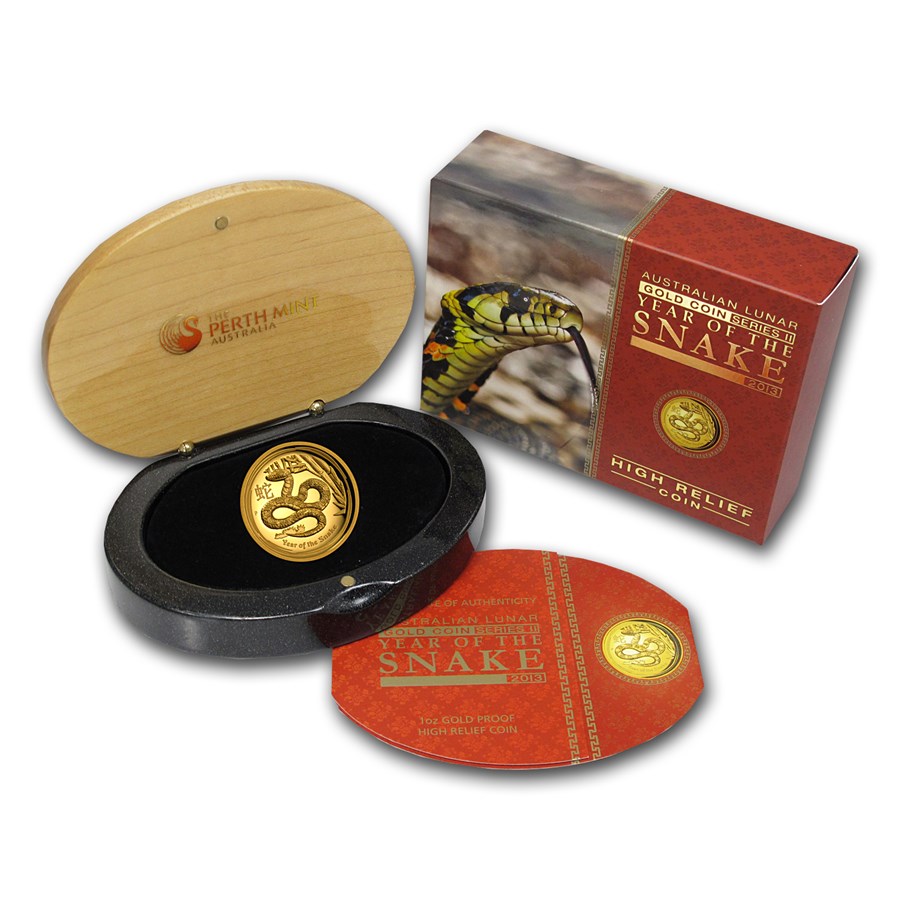 In stock
Payment options:
Delivery Information:
You can choose a company that will deliver the coins to you. We will deliver within 3-5 days.
Pure precious metal in a coin
31.10
Year of issue of the coin
2019
Availability of a coin certificate
Yes
Description
Australia's golden Lunar is a series of investment coins, the issue of which began in 1996. The theme of the collection is the eastern zodiac horoscope. The image on the reverse corresponds to the image of an animal, which according to the Chinese horoscope is the patron saint of a particular year.
The first series of Australian Lunar was produced from 1996 to 2007. Monetary units turned out to be so popular among investors that the Perth Mint from 2008 began to mint the second series, which turned out to be no less in demand. In 2020, the release of the third began.
"Lunar" of the II series "Year of the Snake" 2013 received a design different from the 2001 copy. The new coin depicts a snake, a symbol of wisdom and grace, independence and charm. It warms in the rays of the warm, spring sun on the green lawn. And around it impassable thickets of bamboo, on the branches of which young leaves bloom. At the bottom is the inscription "Year of the Snake," and on the left is the Chinese character and the letter P - the sign of the Perth Mint. The reverse traditionally depicts a portrait of Elizabeth II and a face value of 100 Australian dollars.
"Lunar" is made of gold 0.9999 samples, has a weight of 1 troy ounce, is made as "Proof high relief." The copy is perfectly suitable for investment, sold in an individual plastic capsule. A coin is available in our store. You can purchase it online with secure shipping to your address. All catalog items are authenticated.
Отзывы
4.8
Общий рейтинг монеты основанный на 4535 отзывах
Все отзывы
Виктор
10.08.2021
Крутая монета, подарил другу.
Виктор
10.08.2021
Крутая монета, подарил другу.
Виктор
10.08.2021
Крутая монета, подарил другу.
Виктор
10.08.2021
Крутая монета, подарил другу.
Виктор
10.08.2021
Крутая монета, подарил другу.
Виктор
10.08.2021
Крутая монета, подарил другу.
Виктор
10.08.2021
Крутая монета, подарил другу.
Виктор
10.08.2021
Крутая монета, подарил другу.
Виктор
10.08.2021
Крутая монета, подарил другу.
Popular questions
Можно заказать монету со своей гравировкой?
Нет, но монета может являться оригинальным подарком очень дорогому человеку, благодаря тому, что в качестве года выпуска монеты, может быть год его рождения.
Ваш браузер устарел рекомендуем обновить его до последней версии
или использовать другой более современный.